Dark Sky Series: Anza-Borrego Desert
This trip to Anza-Borrego Desert in California is the cornerstone of our Dark Sky Series and is sure to deliver a transformative experience for you. Read more below:
Trip Series: Dark Sky
Location: Anza-Borrego Desert
Length: 3 days, 3 nights
Overview
Itinerary
Includes
Excludes
Gallery
Booking
FAQ
Mindful Adventure Travel
Sometimes, the stresses of work and life can cause burnout. Recal's mission is to provide you with the tools to attain — and maintain — a recalibrated mindset so you can better navigate all of life's stressors and challenges.
This guided, retreat-style trip is a perfect way for you to overcome your work-induced burnout, utilizing adventurous and mindful experiences in the outdoors to center yourself, renew their sense of energy, and attain a recalibrated mindset. Our trip to the Anza-Borrego Desert is partnered with California Overland, an independently-owned and operated, racially-inclusive, and sustainability-minded outfitter. Your trip leader will be Adrianne, one of our great Recal Mindfulness Coaches.
This trip to Anza-Borrego Desert in California is the cornerstone of our Dark Sky Trip Series. We've crafted an experience that takes you out of your noisy work environment and into one of the most serene places in the U.S. Surrounded by incredible landscapes, sunsets and sunrises, badlands topography, and awe-inspiring dark skies, we will guide you into this space in hopes to unlock an inner and outer peace.
Trip Details:
Price:
Date:
No set dates at this time - inquire about this trip using the 'Trip Enquiry' button above
Dark Sky Trip Series: Anza-Borrego Desert, California
See sample 3-day, 3-night itinerary below
Itineraries
Day 1 (evening only)
The Evening Before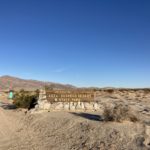 We will meet on the evening before our trip begins in Borrego Springs, CA. After you arrive, there will be a warm welcome from trip leaders and an orientation meet-and-greet. We will also practice our first meditative exercise with a 'quiet' dinner; this will open our senses to the food we eat and sounds we heard, setting the stage for introspection that will continue throughout the trip. We will break the silence after dinner with a discussion to set our intentions for the trip and identify the "why" we are all here.
Day One Overview:
Introspective Dinner
Intention-Setting
Day 2
Into the Desert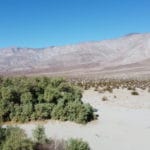 Today we will drive from California Overland's location in Borrego Springs to our first adventure of the trip, a guided hike at Sheep Canyon. Sheep Canyon is a beautiful oasis and perfect spot for a meditation and breathwork session. Lunch will also be held here. After lunch, we will drive to Rock House Canyon and hike to a view of ancient Petroglyphs in the rocks, as well as the foundation of an old Indian Village.
We will then load into the 4x4s and head to our campsite, called the Homestead site, which are located on Clark Dry Lake. This is a remote place, circled by mountains, and secluded from light sources that obscure our view of the Dark Sky. After dinner, we will practice a grounding exercise as we observe the skies above.
Day Two Overview:
Mindful Hike at Sheep Canyon and Rock House Canyon
Breathwork/Meditation to Center Ourselves
Evening under the Dark Sky
Day 3
Lookout Points & Guided Astronomy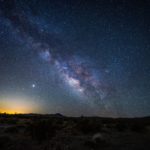 We will start the day with a morning breathwork, meditation, and awareness-building of how our senses are reacting to the quiet and nature around us.
The group will then head to one of the most beautiful and impactful places in the desert: Fells Point. This is where instagram makes Anza-Borrego famous :) We will take a long pause in this incredible view.
As evening comes, this evening will be our last together. Therefore, dinner tonight will be particularly special. After dinner, we will welcome a special guest: an experience astronomer. He will bring telescopes and other tools to make our stargazing even more impactful, enabling us to further contextualize our place in this vast universe.
Following this impactful dark sky stargazing experience, we will break for the night.
Day Three Overview:
Morning Breathwork and Meditation
Fells Point Lookout
Final Dinner Together
Guided Stargazing
Day 4
Departure
Knowing that we'll be re-entering the busy world from which we came, there will be one last dive into ourselves to achieve inner peace through a gentle mindfulness practice meant to reacquaint with ourselves. After this, we will break camp and head back to Borrego Springs.
Before we depart, you will also receive information on how to stay in touch with your group and Coach to keep up the practices that we worked on during the trip. You will also receive your next set of Recal Journal pages to continue your journaling practice.
We then say our goodbyes - until next time!
Recal Coach and trip leader for all mindfulness practices throughout the trip

including breathwork, meditation, quiet hikes, and more

Two nights total camping
All food and beverages for breakfast, lunch, and dinner during the trip
Intra-trip transportation to local experiences
Vehicle parking is available (if driving to Anza-Borrego)
A Recal Journal as a companion to your quiet journey
Transportation to Anza-Borrego
The first night's hotel lodging (hotel recommendations will be provided)
Gratuities (as you see fit) for local guides and Recal coach
For this specific trip, the outfitter will provide you with a packlist of all the items you should consider packing.
We do not provide travel to the start location for any of our Recal trips. We feel that everyone has transportation preferences, alt-travel options for work, or even points to use on their credit card, so we choose not to mandate any particular type of travel.
If you have any questions or require help booking travel, feel free to ask us!
NOTE: there may be 'intra-trip' transportation needs (example: traveling from attraction to attraction, etc.). The trip outline and details or the outfitter themselves will specify if this included in the trip price.
The trip begins in Borrego Springs, CA. We will provide more info about exactly where and hotel recommendations soon.
We will send you a full Packlist of items to bring in advance of the trip. But for starters, here's a few things you'll need to bring:
Toiletries
Bug Spray
Sunscreen
Sunglasses
Flashlight or Headlamp
Reusable water bottle/canteen
Activewear clothing you are comfortable hiking, biking, practicing yoga, and sitting/lying on the ground in
Hiking shoes
Recal Journal (which will be sent to you before the trip)
Any personal items that you use for your own mindfulness practices
Yoga mat (optional)
There will be a Recal coach on the trip leading you through this trip into the dark sky. You will experience guided breathwork, meditation, quiet hikes, and other forms of mindfulness.
You will also have our Recal Journal available to you for journaling throughout the trip.
And lastly, given you will be in nature in one of the most beautiful places in the world, there will be more than enough unguided opportunities for mindfulness -- we encourage this as well.
This trip is primarily for adults, so you must be at least 18 years old. Contact us with any questions
If you have to cancel, send us a note at least 45 days before the event and we should be able to accommodate.
All of our trips enact a 'Presence Policy,' in which you commit to limiting phone use and other technology that pull you away from your awareness of the trip. This is particularly important for our Quiet Series, as our phones and computers are a bridge to the noisy world we are intentionally leaving behind for a brief time.
Our core principles of Mindful Adventure Travel are:
Our trips help you recalibrate your mind and body and bring yourself back to center. This enables you to more effectively navigate all of life's stressors and challenges. Let's dig into how we do that:
Pre-trip
Recal Journal. This important element actually begins before the trip itself; as soon as you sign up, you will be sent a Recal Journal. The journal has everything you need to begin your journey toward a recalibrated mindset: prompts for mindful and intentional living, daily highlights, lowlights, reflections, a gratefulness practice, and more.
Tips and Useful Content from Recal. In order to prepare you for the trip, we will send information to you that includes a guide for how to practice your own breathwork, meditation, or yoga. We also have tips on how to increase your general fitness level leading up to the trip.
Personal Coaching. Every trip includes a 1:1 session with your Recal Coach before the date of your trip. This will help prepare you for what's ahead and what to expect.
On-trip
Recal Journal. The trip itself provides the perfect mindspace and environment, immersed in nature, to be present and able to put thoughts and reflections on paper. Our Recal Journal is the perfect tool for this.
Breathwork. This is the key ingredient. Your Recal Coach will guide you through breathing exercises that are immensely helpful to center yourself and dive more deeply into being present. Breathwork is a tool that we use to shed stress and anxiety, as well as bring a sense of calm and clarity to your mind and body.
Meditation. Your Coach will also lead various styles of meditation; the outdoor and unplugged nature of the trip enables you to dive more deeply into this mindfulness practice (even if you are new to meditation)
Yoga. Depending on your trip itinerary, yoga will be incorporated. The style of practice is a flow more akin to recovery, flexibility, and centering as opposed to a power flow. This is a perfect complement to the adventurous nature of the trip.
Unguided Mindfulness. In addition to the guided elements, we also set aside time in your trip itinerary to explore mindfulness on your own — whether that is a walking meditation, solo sit, silent hike, time to read, additional journaling, or other activity.
Post-trip
Recal Journal. Journaling doesn't have to end with the trip; we created this specifically as an ongoing tool for mindful and intentional living. There is also an option to receive automatic replenishment of the refillable pages of the journal.
Recal Content and Newsletters. The core mission of Recal is to provide you with the tools to attain, and maintain, a recalibrated mindset so you are equipped to navigate all of life's stressors and challenges. After your trip is over, with your permission, we will provide you with useful content and information to enable you to maintain the things you practiced on the trip
Stay in Touch with the Group. The connections you create with other incredible people on your trip can have a lasting impact. We will create a virtual space for you to stay in touch well after your trip.
Personal Coaching. Every trip includes a 1:1 session with your Recal Coach beforehand, and we also offer one after the trip is over. If you want to go even deeper, and if your Coach has availability, you can continue to work with them on an ongoing basis.
You can read more about our approach to Mindful Adventure Travel on our About Us page.