Recal x The Wilderness: Boundary Waters Canoe Area
This trip has all the elements of a transformational experience – nature immersion, guided mindfulness practice, and naturally quiet soundscape. Read more below.
Location: Ely, Minnesota Length: 3-days / 3-nights Recal Coach: Anthony Lorubbio Outfitter: Boundary Waters Outfitters Start Date: September 8th End Date: September 11th
Overview
Itinerary
Includes
Excludes
Gallery
Booking
FAQ
Mindful Adventure Travel
Recal Travel and The Wilderness Fitness and Coworking are proud to present:
A trip to the Boundary Waters Canoe Area Wilderness
We've crafted an experience that takes you out of your day-to-day routine and into one of the quietest (meaning the least amount of man-made noise) places in the U.S. While surrounded by the pristine lakes and forest of the Northwoods, we will guide you into the quiet and give an opportunity to create special relationships with like-minded individuals. The trip includes one night at the Ely Log Cabin and two nights camping/canoeing in the Boundary Waters.
The Boundary Waters Canoe Area Wilderness (BWCA) is an upcoming Quiet Wilderness Park, as defined by our partner for the trip series, non-profit organization Quiet Parks International. It also currently holds the designation of a Dark Sky Sanctuary. This combination of quiet and dark skies lend itself to an ideal atmosphere for a transformational travel experience.
We are guided and outfitted Boundary Waters Outfitters, an independently-owned and operated, racially-inclusive, and sustainability-minded outfitter. And our trip leader will be Anthony Lorubbio, the founder of Recal - Mindful Adventure Travel.
There are a few things to note about the trip:
It is a trip into a wilderness area, therefore it is a more 'rugged' style of trip.
We are at the mercy of mother nature and her weather patterns :)
We will be canoeing and portaging (carrying canoes between bodies of water) our way through the wilderness until we reach our campsite. This does require a general level of fitness. Canoeing experience preferred, but not required. 
Campsites are first-come, first-serve inside the Boundary Waters, so there is no guarantee of any particular campsite. There is no running water or shower/bathroom facilities; however, there is a latrine (primitive toilet) at each campsite.
Campsites within the Boundary Waters can be small; therefore, you should expect to share a tent with another member of our group (depending on the final size of our group), as there may only be four tent spaces available. 
All of these elements are our way of saying that we have the unique opportunity to live naturally in the wilderness for a brief period of time -- like our ancestors did for thousands of years, and like our bodies instinctually know how to do.
This retreat has the elements of a transformational experience - nature immersion, guided mindfulness practice, naturally quiet soundscape for outer quiet, dark skies, serene views, and incredible humans to connect with along the way. We are excited to share this incredible opportunity to venture into the wilderness and grow together with you.
Trip Details:
Price:
$1,000 for the all-inclusive 3-day trip. The trip price includes all gear (tents, sleeping bags and pads, canoe and paddle, large backpack for your personal items, and other gear) and food, beginning with Thursday dinner and ending with Sunday breakfast. 
There is a trip minimum of 4 people in order to guarantee the trip happens as planned
Date:
Thursday, September 8th - Sunday, September 11th
Location:
Start location : Ely Log Cabin (exact address: 3872 Mud Creek Rd, Ely, MN 55731)
On Friday morning, we will drive to Boundary Waters Outfitters in Ely, MN to begin trip into the BWCA
End location: Boundary Waters Outfitters in Ely, MN
Itinerary:
View the next tab for a day-by-day breakdown of the trip
Wilderness Trip: Boundary Waters Canoe Area, Minnesota
Itineraries
The Night Before
Welcome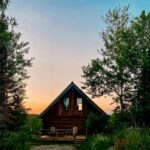 Arrive and warm welcome from trip leaders. We will settle in at Ely Log Cabin with a meet-and-greet, and orientation. We will then practice our first mindfulness exercises with journaling prompts, breathwork, and a meditation session; this will open our senses and set the stage for introspection that will continue throughout the trip.
We then enjoy a group dinner, campfire, and intention-setting to identify the "why" behind the reasons we're all here.
Day Overview:
Orientation / Meet-and-Greet
Breathwork + Meditation + Journaling
Introspective Dinner
Campfire and Intention-Setting
Day 1
Into the Boundary Waters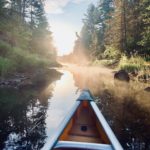 We'll get an early start to the morning with breakfast and head to our outfitter location, Boundary Waters Outfitters. From there, we will shuttle to the Boundary Waters entry point designated for our trip (Moose Lake).
After a tow boat ride across Moose Lake, we will embark on our first paddle and portage experience as we make our way through the serene and peaceful Northwoods environment. Throughout the day, we will be intentional to include periodic pauses to take in the environment and begin to identify sensory patterns for the continued quieting of our experience.
- For example, prompts will be given to encourage being present, like listening to the sound of your paddle hit the water in a rhythmic fashion.
- We'll also periodically pause to observe the natural soundscape around us. Not focusing on specific sounds, but the combination of them that makes this place unique.
We will complete our paddle and portage and set up camp for the evening. Dinner will be served by our guides, and there will be a night-time meditation that continues to re-attune our bodies to the natural circadian rhythms of nature.
Day 1 Overview
Guided Nature Meditation (Outer Quiet)
Morning and Night meditations to re-attune you to the natural circadian rhythms of nature
Group Meditation to Nature Sounds within the BWCA
Day 2
Rhythm of the Boundary Waters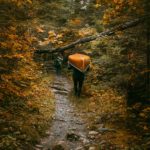 We will begin each day with a morning meditation, breathwork, and awareness-building of how our senses are reacting to the quiet nature around us.
Activity and distance covered will vary by campsite availability and weather, however some may include a day full of paddle and portage to the next campsite, while others we spend a day near camp with off-shoot hiking experiences.
We'll have time each day at camp for unguided self exploration as well. This is a good opportunity to do a journaling practice, go on a short hike around the property, read, absorb the sounds of nature, etc.
Day 2 Overview:
Centering Exercises
Guided Meditation (Inner Quiet)
Unguided Individual Exploration (Inner Quiet)
Mindful Forest Bathing (Outer Quiet, Listening to Nature Sounds)
Last Day
Departure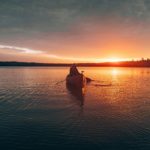 And with that, the sun has set on our time together.
This is our last day. Knowing that we'll be re-entering the noisy world from which we came, there will be one last dive into ourselves to achieve inner peace through a yoga practice meant to reacquaint ourselves...with ourselves. Afterward, we will do our final paddle and portage to the tow boat pickup and shuttle our way back to Boundary Waters Outfitters.
We will also share information with you on how to stay in touch with the group and Coach to keep up the practices that we worked on during the trip. You will also receive your next set of Recal Journal pages to continue your journaling practice.
And with that... we say our goodbyes (or see-you-soons).
Recal Coach and trip leader for all mindfulness practices throughout the trip

including breathwork, meditation, quiet hikes, and more

All canoeing and camping gear
All food and beverages for breakfast, lunch, and dinner during the trip
Vehicle parking is available in Ely, Minnesota
A Recal Journal as a companion to your quiet journey
Transportation to Ely Log Cabin in Ely, Minnesota
Gratuities (as you see fit) for local guides and Recal coach
The trip begins in Ely, Minnesota at the Ely Log Cabin; exact address will be provided in the pre-trip materials.
We will send you a full Packlist of items to bring in advance of the trip. But for starters, here's a few things you'll need to bring:
Toiletries
Bug Spray
Sunscreen
Sunglasses
Flashlight or Headlamp
Reusable water bottle/canteen
Activewear clothing you are comfortable hiking, biking, practicing yoga, and sitting/lying on the ground in
Hiking shoes
Recal Journal (which will be sent to you before the trip)
Any personal items that you use for your own mindfulness practices
There will be a Recal coach on the trip leading you through this trip into the quiet. You will experience guided breathwork, meditation, quiet hikes, and other forms of mindfulness.
You will also have our Recal Journal available to you for journaling throughout the trip.
And lastly, given you will be in nature in one of the most beautiful places in the world, there will be more than enough unguided opportunities for mindfulness -- we encourage this as well.
This trip is primarily for adults, so you must be at least 18 years old. Contact us with any questions
If you have to cancel, send us a note at least 45 days before the event and we will hopefully be able to accommodate.
All of our trips enact a 'Presence Policy,' in which you commit to limiting phone use and other technology that pull you away from your awareness of the trip. This is particularly important for our Quiet Series, as our phones and computers are a bridge to the noisy world we are intentionally leaving behind for a brief time.
Our core principles of Mindful Adventure Travel are:
Our trips help you recalibrate your mind and body and bring yourself back to center. This enables you to more effectively navigate all of life's stressors and challenges. Let's dig into how we do that:
Pre-trip
Recal Journal. This important element actually begins before the trip itself; as soon as you sign up, you will be sent a Recal Journal. The journal has everything you need to begin your journey toward a recalibrated mindset: prompts for mindful and intentional living, daily highlights, lowlights, reflections, a gratefulness practice, and more.
Tips and Useful Content from Recal. In order to prepare you for the trip, we will send information to you that includes a guide for how to practice your own breathwork, meditation, or yoga. We also have tips on how to increase your general fitness level leading up to the trip.
Personal Coaching. Every trip includes a 1:1 session with your Recal Coach before the date of your trip. This will help prepare you for what's ahead and what to expect.
On-trip
Recal Journal. The trip itself provides the perfect mindspace and environment, immersed in nature, to be present and able to put thoughts and reflections on paper. Our Recal Journal is the perfect tool for this.
Breathwork. This is the key ingredient. Your Recal Coach will guide you through breathing exercises that are immensely helpful to center yourself and dive more deeply into being present. Breathwork is a tool that we use to shed stress and anxiety, as well as bring a sense of calm and clarity to your mind and body.
Meditation. Your Coach will also lead various styles of meditation; the outdoor and unplugged nature of the trip enables you to dive more deeply into this mindfulness practice (even if you are new to meditation)
Yoga. Depending on your trip itinerary, yoga will be incorporated. The style of practice is a flow more akin to recovery, flexibility, and centering as opposed to a power flow. This is a perfect complement to the adventurous nature of the trip.
Unguided Mindfulness. In addition to the guided elements, we also set aside time in your trip itinerary to explore mindfulness on your own — whether that is a walking meditation, solo sit, silent hike, time to read, additional journaling, or other activity.
Post-trip
Recal Journal. Journaling doesn't have to end with the trip; we created this specifically as an ongoing tool for mindful and intentional living. There is also an option to receive automatic replenishment of the refillable pages of the journal.
Recal Content and Newsletters. The core mission of Recal is to provide you with the tools to attain, and maintain, a recalibrated mindset so you are equipped to navigate all of life's stressors and challenges. After your trip is over, with your permission, we will provide you with useful content and information to enable you to maintain the things you practiced on the trip
Stay in Touch with the Group. The connections you create with other incredible people on your trip can have a lasting impact. We will create a virtual space for you to stay in touch well after your trip.
Personal Coaching. Every trip includes a 1:1 session with your Recal Coach beforehand, and we also offer one after the trip is over. If you want to go even deeper, and if your Coach has availability, you can continue to work with them on an ongoing basis.
You can read more about our approach to Mindful Adventure Travel on our About Us page.