your daily journal for mindful living
Embrace the Recal methodology to live your life with intention and fulfillment
EMBRACE MINDFULNESS DAILY
Cultivate a calm and focused mindset amidst the demands of your life and work
Improve your mood, focus, and overall mental & physical wellbeing
Anchor yourself in the present moment with intentional decision-making practices.
RECALIBRATE YOUR MIND+BODY
Track and enhance the activities that support positive movement and stress management
"Honest self reflection opens your mind to reprogramming, change, success, and freedom."
—Vikas Runwal
Modern culture has a way of pushing us to live for its purpose, not our own.
Without conscious awareness of the way you spend your energy and time, it's all-too easy to fall into a way of living that the world around you expects; not the one you want for yourself.
We believe that living life with intention and purpose means unlocking the full potential of your human experience—and everything life has to offer.
The Recal Guidebook provides highly productive, professionally ambitious individuals with science-backed tools to navigate the complexities of our modern world, while fostering mindfulness and wellbeing.
Leather-bound and printed on recycled paper, you'll be proud to carry the Guidebook with you from the boardroom to the park bench to the living room – and everywhere in between.
Mindfully plan, track, and reflect on your days.
A daily gratitude practice enables a positive mindset for your day, while the 'Top Priorities' and 'Hourly Schedule' enable you to plan ahead and stay on task. Conclude your day with reflection prompts to acknowledge your progress in living a purposeful life.
Gratitude Practice
Habit Tracker
Connection to Nature
Daily Reflections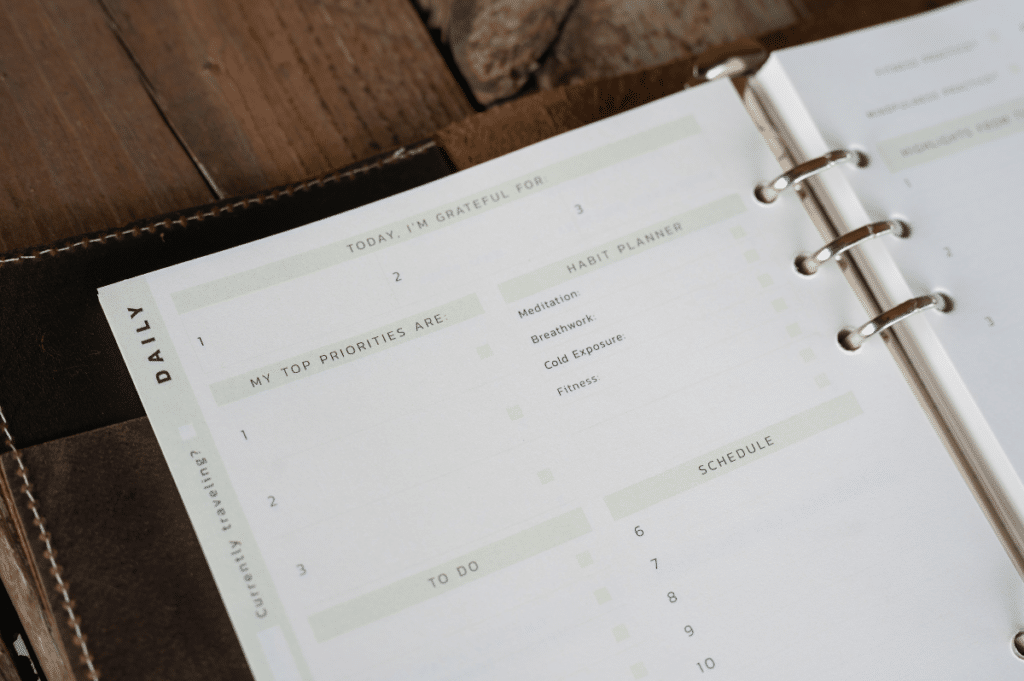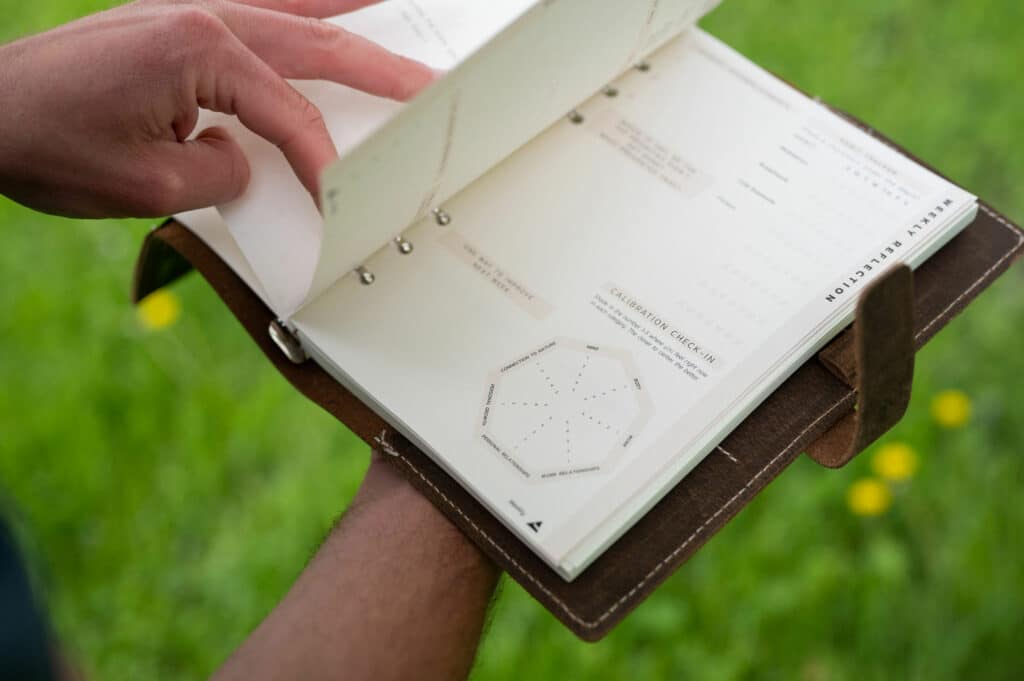 Integrate mindfulness, fitness, and connection into your routine.
The structured framework for identifying top priorities, key actions for success, and activities that bring you joy empower you to live more intentionally. While reflection tools, such as the Habit Tracker and Calibration Check-in, help you stay present and mindful of your current state of being.
Calibration Check-In
Highlights and Accomplishments
Habit Tracker
Mindfulness Practice
High-level overview of your intentions and purpose.
Plan your priorities and activities, make note of what you want to be mindful of that month, and reflect on insights you gained about yourself. Nothing in this section is a checklist; it's a simple practice of identifying areas of your life that hold value for you, and taking a moment to reflect on them.
Top Priorities
Accomplishments & Insights
Calibration Check-in
Gratitude Practice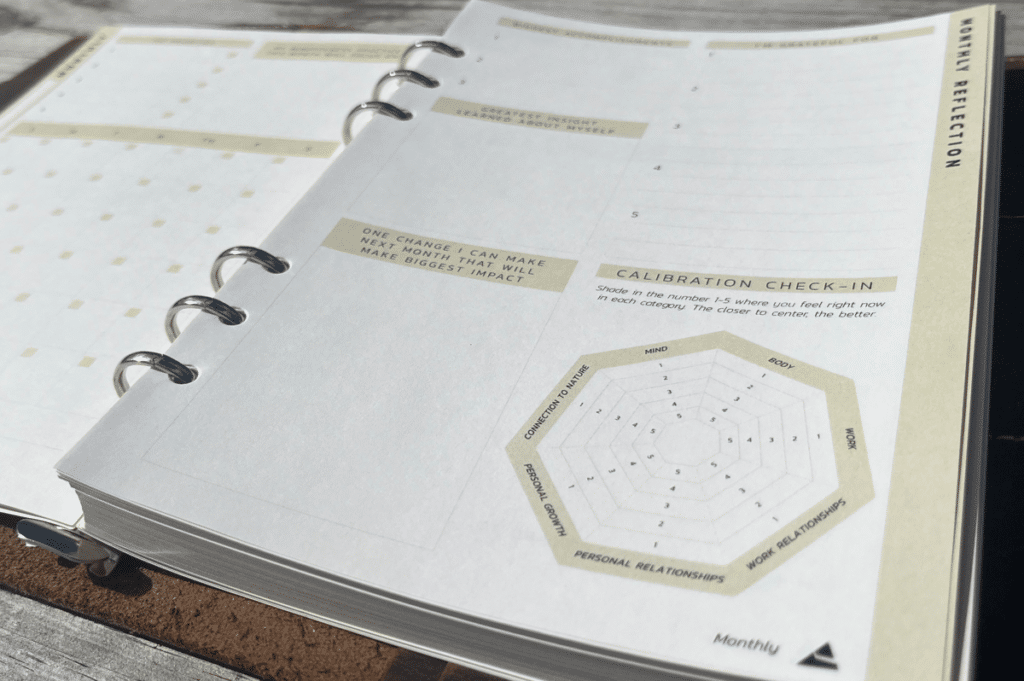 Chris H
Real Estate Development
,
"The program Recal has put together is exactly what we all need to come back to homeostasis as human beings. The work reminds us what it means to be fully alive and present in the world."
Paige W
Public Safety
,
"I feel like I've learned techniques to help me in my everyday life to calm the outside noise."
Kari P
Public Safety
,
"This is not just a tool for the tool box. It is an accessory to every tool we have to help us perform better as humans. I highly recommend Recal and its program. It simply works."
Meghan M
Public Safety
,
"Recal has a wonderful program and it works. From the breath training, mindfulness practices, guidebook journaling, and more, I'm blown away by the results. I am forever grateful to them and the vision."
Nick F
Personal Development

,

,

"The connections with everyone were special; we really built a little community with so much shared wisdom. I felt completely safe and my needs cared for. I'm also feeling more clear on what to focus on vs what not to focus on in my day-to-day. The path is unfolding in the direction where I'm focusing my attention and I'm able to notice it. I've been practicing breathwork daily and feeling great results."
"Don't become too preoccupied with what is happening around you.
Pay more attention to what is going on within you."
—Mary-Frances Winters
Recal Guidebook

The Recal Guidebook is a daily journal system that helps you focus on the most important things, so you can live and work with greater ease, mindfulness, and purpose. Leather-bound and printed on recycled paper, you'll be proud to carry the Guidebook with you from the boardroom to the park bench to the living room - and everywhere in between.

$

85.00
© 2023, Recal Travel | All rights reserved