Biking and Paddling Adventure in the Midwest
Ready for an active traveling adventure full of paddling, biking, and mindfulness to shed your work-induced stress? We are excited to offer this…
Keywords :
adventure travel
,
biking
,
chicago
,
kayaking
,
midwest
,
milwaukee
,
mindfulness
,
minneapolis
,
paddling
,
wisconsin
,
wisconsin river
Outfitter: Lost Travel Years in Business: 3 Length: 7-Day Start Location: Madison, WI Start Date: Evening of July 31st End Date: Afternoon of August 7
Overview
Mindful Adventure
Outline
Includes
Excludes
Gallery
Outfitter Reviews
Booking
FAQ
Downloads (if applicable)
Ready for an active traveling adventure full of paddling, biking, and mindfulness to shed your work-induced stress? We are excited to offer this (mostly) unscripted adventure through the rolling hills and rivers of Southern Wisconsin in summertime. Starting in Madison, WI, the location is a reasonable drive from Chicago, Milwaukee, and Minneapolis, so you are sure to be joined with others in need of a hard-earned recalibration.
The trip is designed in tandem with our outfitter partner, Lost Travel, and its Driftless 250 itinerary — but adds Recal's stable of mindfulness elements to produce the perfect remedy for burnout. The 7-day (8 including kick-off event the night before) adventure starts with biking in Madison, WI, shifts to paddling (solo kayak or duo canoe) on the Wisconsin River to the Mississippi River, and ends in a biking trek in the countryside (or forest hills if you're looking for more of a challenge). You will camp along your loop route, riverside or roadside, while progressing through checkpoints of the adventure. At each checkpoint, your Recal guide will be there to lead meditations, yoga, and breathwork exercises.
Additionally, your participation in this trip will help raise money to preserve the environment: 5% of trip revenues support the River Alliance of Wisconsin to preserve the Wisconsin River for future generations.
A perfect blend of adventure, mindfulness, and immersion in nature, this is an active traveling adventure that you won't want to miss.
Trip Cost: $595/person for solo (kayak), $488/person ($975 total) for a duo (canoe)
Available Dates
Or, inquire about a custom date below:
What do we mean by "mindful adventure" travel?
Sometimes, stresses of life and work can cause burnout, and we find ourselves off-center. Our multi-day, guided active trips are a perfect way to recalibrate, utilizing adventurous and mindful experiences in the outdoors. It is our mission to provide you the tools to attain, and maintain, a recalibrated mindset.
Our approach to mindfulness — and ultimately what we mean when we say — "mindful adventure" travel is this:
Pre-trip
Recal Journal

. This important element actually begins before the trip itself; as soon as you sign up, you will be sent a Recal Journal. The journal has everything you need to begin your journey toward a recalibrated mindset: prompts for mindful and intentional living, daily highlights, lowlights, reflections, a gratefulness practice, and more. 

Mindful Adventure Fitness

. If you live in a city where we conduct our in-person 'Mindful Adventure Fitness' classes, you can attend a session to practice your meditation, breathwork, and improve your fitness level leading up to your trip.
On-trip
Recal Journal

. The trip itself provides the perfect mindspace and environment, immersed in nature, to be present and able to put thoughts and reflections on paper. Our Recal Journal is the perfect tool for this.

Meditation

. Your Recal guide leads meditations; the outdoor and unplugged nature of the trip enables you to dive more deeply into this mindfulness practice (even if you are new to meditation)

Breathwork

. In addition to meditation, there are also guided breathing exercises that are immensely helpful to center yourself and dive more deeply into being present.

Yoga

. The adventure elements of your trip (whether that is paddling, biking, or hiking) aren't the only physical challenges. Depending on your trip itinerary, yoga will be incorporated. The practice is a flow more akin to recovery and flexibility, as opposed to a power flow, so it is a perfect complement to the physical nature of the trip.

Unguided Mindfulness

. In addition to the guided elements, we also set aside time in your trip itinerary to explore mindfulness on your own — whether that is a walking meditation, solo sit, silent hike, time to read, additional journaling, or any other activity.
Post-trip
Recal Journal

. Journaling doesn't have to end with the trip; we created the journal specifically as an ongoing tool for mindful and intentional living. There is also an option to receive automatic replenishment of the refillable pages of the journal.

Mindful Adventure Fitness

. The core mission of Recal is to provide you with the tools to attain,

and maintain,

a recalibrated mindset so you are equipped to navigate all of life's stressors and challenges. If you live in a city where we conduct in-person classes, consider attending a 'Mindful Adventure Fitness' class. And if you aren't, consider following our content for information on workouts so you can 'do it yourself.'
To summarize, the three core principles of mindful adventure travel are:
You can read more about our approach to mindful adventure travel on our About Us page.
Biking and Paddling Adventure in the Midwest
This traveling adventure is 7 days and 7 nights (8 days including kick-off the night before in Madison) of mindfulness and adventure, with 100 miles paddling and 150 miles biking in beautiful Driftless, Wisconsin.
Itineraries
Kickoff
Date : July 31, 2021
Saturday
The kickoff event is the Saturday evening before the adventure begins. This is where you'll meet your Recal guide and other people on the trip. There will be food and drinks provided.
At the kickoff we'll go over the details of the transitions and review some basic safety information and checkpoint locations.
Leg 1: Biking
Date : August 1, 2021
Time : 9:00 am
Sunday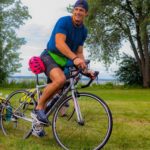 Before sending you on your way, we will do a morning yoga and meditation around 9am CST.
The adventure starting bell will be around 10:30am.
You begin by bike from the start line to Sauk City. You're carrying all your own kit, and the route you take is up to you. This will take less than a day (~25 miles).
When you finish Leg 1, we'll take your bike and allot you a canoe or kayak (depending on what you registered for).
Leg 2: Paddling
Sunday - Wednesday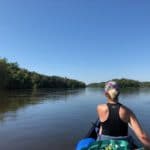 Leg 2 is a paddle (kayak or canoe) down the Wisconsin River to the Mississippi, at Wyalusing. The exact route and pace is up to you, but there are designated checkpoints and times given to you. At these checkpoints, your Recal guide will be there for guided mindfulness practice.
This leg will take 4 days (~100 miles)
On Wednesday, you will transition from paddle to bike. Your Recal guide well be set up at the transition location, ready for a much-needed yoga and prepared lunch.
Leg 3: Biking
Wednesday - Saturday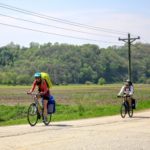 From the Wyalusing transition, you will bike up to the campground, where we will have a guided meditation at sunset.
The next morning (Thursday), we will wake up with a sunrise breathwork and yoga before send-off on your bike. The route you take is up to you, aside from the provided checkpoints. From here, you've got 3 days and ~125 miles to the finish line.
We encourage you on this portion of the trip to practice unguided mindfulness and enjoy yourself. It's a mindful adventure, not a race.
Finish
Date : August 7, 2021
Saturday
You've made it!
The finish line will be in Madison, Wisconsin, in the afternoon, at an undisclosed location (we'll tell you at the kickoff event). There will be food, drinks, and plenty of stories and camaraderie at the finish line event.
From here, we say our goodbyes and part ways.
A kayak for you or canoe for your team of 2
Paddles and life vests
Transportation and secure storage for your bike while on the river
Firewood for the canoe portion
Start line kickoff (food + drinks included)
Finish line send-off (food + drinks included)
Donation to River Alliance of Wisconsin
Bikes; you must bring your own bike with all necessary safety equipment. E-bikes are welcome

Bike rentals can be arranged at additional cost

Food and Water (with exception of kickoff and send-off)
Tents and sleeping gear
There is no SAG (Support And Gear) vehicle arranged, but you can if you'd like
Gratuities for your Recal mindfulness guide
Pricing Name

Start

End

Group (Min-Max)

Pricing
You must bring your own bike. If you want to arrange a bike rental, get in touch with us.
You also need to bring your own camping equipment; we recommend you pack light. We will provide a list of recommended gear from the outfitter.
A tent or hammock and anything else you need to camp with would be useful too. Don't bring more than you can carry on a bike.
We also recommend you bring a map and compass, as well as additional battery charge backups if using your phone (when reception is available)
You will need to bring/buy your own food and water, aside from what's provided in the kickoff and send-off.
You will be given the latitude and longitude of the start line before the trip -- about 4-6 weeks before start date. Plan on being within 10 miles of the Wisconsin State capital on the day of the kickoff.
If you're flying in, book tickets to/from MSN (Dane County Regional Airport), or you can also catch transportation from Chicago's O'hare (ORD) to Madison, WI.
There will be a Recal guide on the trip meeting you at each "checkpoint" along the way. That's where we will do our meditations, breathwork, sunrise yoga, etc.
You will also have our Recal journal available to you for journaling throughout the trip.
And lastly, given the immersion in nature along the Wisconsin river and countryside, there will be more than enough unguided opportunities for mindfulness -- we encourage this as well.
Camping is available along the entire route. Camping on the islands of the Wisconsin River is free and doesn't require a permit. Wyalusing State Park and Governor Dodge State Park are good spots to pitch a tent when you're back on land, each of which are along your route and checkpoints.
You must be at least 18 years old
If you have to cancel, send us a note at least 45 days before the event and will be able to accommodate.