The Great Midwestern Reset Retreat
The Great Midwestern Reset is a retreat designed exclusively for first responders and public safety officials
Accommodations: Lindenwood Retreat Center Location: Plymouth, IN Start Date: May 10, 2023 End Date: May 12, 2023 Length: 3 days, 2 nights
Overview
Booking
Gallery
Trip Outline
Trip Includes
Trip Excludes
FAQ
A Retreat Designed for First Responders and Public Safety Officials
Breathing is essential to life but are we really aware of how truly powerful it is? 
The Great Midwestern Reset, a training retreat for first responders and public safety officials, is designed to teach you all that power and more. In professions such as public safety that hold so much weight in the time that it takes you to breathe a single breath can you really afford not to tap into that power? We are here to help you learn how to optimize your daily performance on the job and in your life as well as connect with those around you who are looking to do the same.   
Food and sleeping accommodations are included in your trip price; please read on for details.
This mid-week 3-day intensive training is fully designed to help you learn to breathe in a manner that builds a foundation for optimal physical and mental performance. In a profession that has you in a constant state of heightened awareness the body can take a beating, physically and mentally. Learn techniques that will help heal your body naturally and allow you to handle those daily stressors with a cool and calm composure allowing your body and mind to also stay cool and calm, keeping you equipped for prime performance. 
There will be opportunities to simulate stress through intentional cold exposure and nature obstacles for practical application of techniques learned. It is our intention to give you tools and techniques to combat stress, make sound decisions, and to leave the things that don't serve you to make room for those that do. 
Everyone attending will learn valuable skills for processing emotions, overcoming stresses, and gaining focus not only on this short journey but in your day to day lives. 
Join us to experience the incredible power of deep breathwork and take home these tools that you can use to enjoy life, not just live it. Disclaimer: There will be some science, but most of this retreat is focused on experience-based learning and self-care so it makes the science a little fun!  
All in all our wish for you is to serve yourself and others well.  We believe that this retreat will help you achieve that with ease. We hope you will grab this opportunity to learn to breathe to perform!  
Trip Details:
Who:
Exclusive to first responders and public safety officials*
Date:
Wednesday, May 10th - Friday, May 12th. Arrive by 4pm Wednesday and depart by 12pm on Friday
Price:
$1,150/person for your private room accommodation
Accommodations:
Lindenwood provides a quiet and peaceful environment for you to step away from the busy-ness and noise of your professional service to slow down for renewal and refreshment. Located on the shores of Lake Gilbraith in Northern Indiana, Lindenwood offers us a beautiful place for the Midwestern Reset retreat.
All rooms have:

Two twin beds (but it will be private to you only)
A private bath with shower
Individually controlled heating/AC units
Linens and towels
Wifi
About Our Host:
Jesse Coomer is our retreat leader, and he is a world famous breathworker, author, and human performance specialist. Jesse has trained thousands of people in breathwork, cold training, and mindset. Among his clients are the US Army Special Operations, Digital Currency Group, and CEOs from all over the USA.
Learn more about the Great Midwestern Reset:
*Please note that this retreat is exclusive to first responders and public safety officials. You must be able to provide proof that you hold or have held a role in public safety to attend.
Below is our day-by-day itinerary for The Great Midwestern Reset Retreat.
Wednesday, May 10th
Check In: 4pm
Welcome
Opening Dinner 6:30pm
Funeral Ceremony
Intro to Breathwork
Campfire
Thursday, May 11th
Hike
Breathing Tools Education
Cold Exposure
Cookout
Social Time around the Campfire
Sunday, May 12th
Deep Breathwork
Closing Ceremony
Depart: 12pm
Itineraries
Wednesday
Date : May 10, 2023
Opening Ceremony | The Funeral Pyre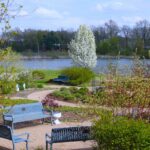 The focus of this retreat is to let go of a part of yourself that no longer serves you, and to decide to put something positive in its place. Many of us hold on to bad habits, unhealthy self-talk, regrets, and other emotional blockages. It is time to let it die! So, when we begin our retreat, we will ask that you bring something that represents what you are letting die. And we will throw it into the fire. It doesn't have to be anything big. It can just be a piece of paper with that thing written on it. Regardless of what you are letting go of, we will begin our weekend with a funeral pyre for that part of yourself to leave behind.
But, when we let something that is no longer serving us die, we leave an empty place. Over the next couple days, there will be space, time, and energy given to dive into meaningful questions -- who are you, and who do you WANT to be? What will you allow to be born? What will you decide to step into?
- Note, you don't have to know this when you arrive! Over the course of the retreat, you'll likely become very aware. Just be open to the experience and watch yourself grow into the you that you want to be.
Thursday
Date : May 11, 2023
Day 2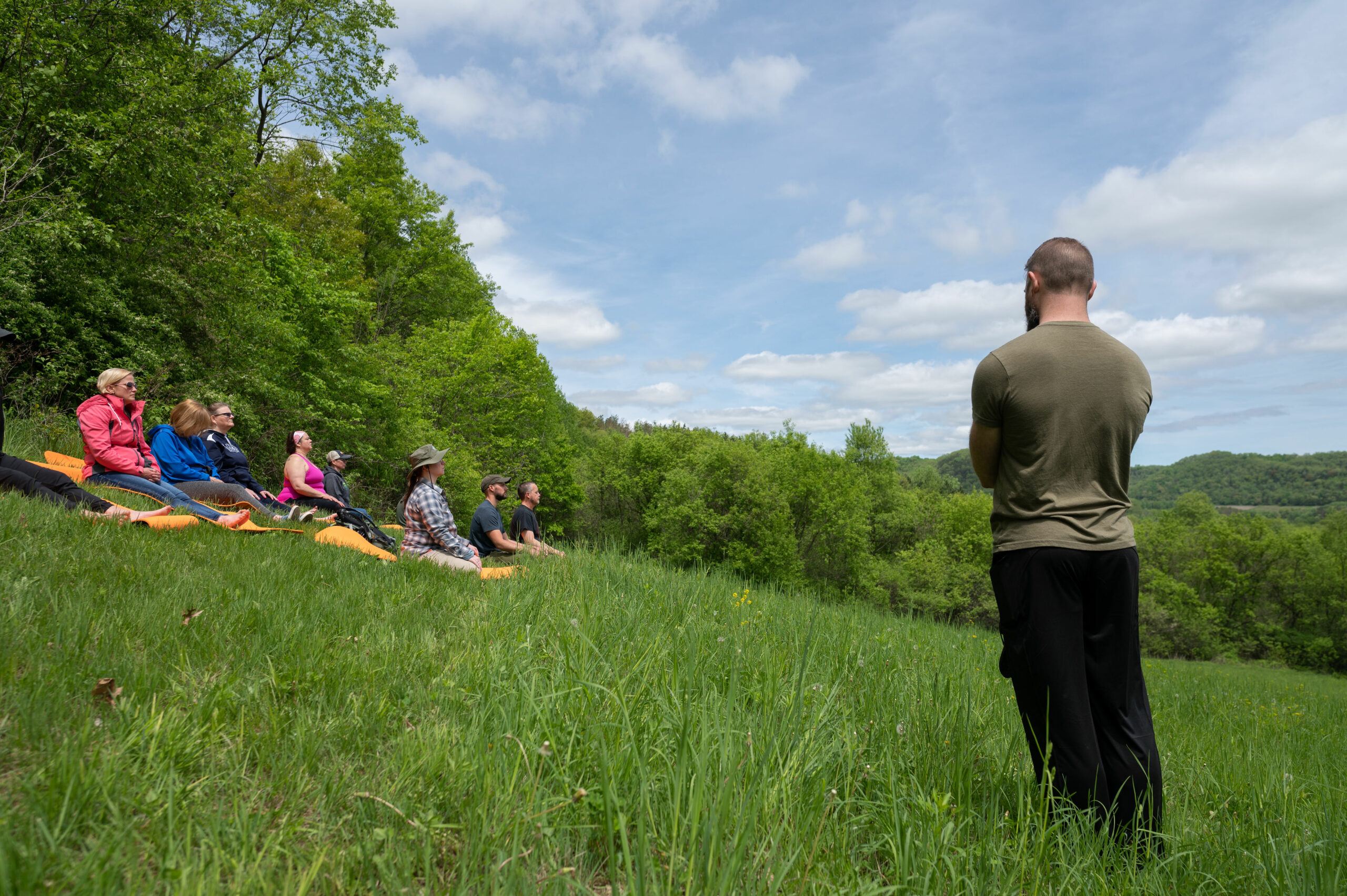 We will have a full day of activities planned for you. After breakfast, our agenda includes meditative hiking, breathing tools educational talk, followed by lunch.
During the afternoon, we will take a plunge in the cold tub. And after dinner, we'll end our day with a cookout and time around the campfire.
- and if you play an instrument, feel free to bring it! Jesse will be playing the guitar.
Friday
Date : May 12, 2023
Day 3 | Closing Ceremony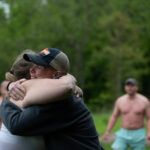 Today is the final day of our retreat. We will go even deeper with our practice by holding a breathwork session in the morning. After breakfast, we will have a closing ceremony. As discussed with the theme, you have brought something to this retreat you wanted to let go of. Now... we'll focus on what to give life to that will occupy this space. Who are you, and who do you WANT to be? What will you decide to step into? Over the course of this weekend retreat, you will have had an opportunity to dive deeply into yourself and decide what to focus on moving forward.
After this special ceremony is over, we will say our goodbyes and depart.
Jesse Coomer as the trip leader and breathwork coach
All meals are included - breakfast, lunch, and dinner during the retreat
Vehicle parking is available on-site at the retreat center
A Recal Guidebook for journaling
Transportation to the retreat center
For a list of items to bring, see the FAQs section to the right
Comfortable clothes for May in the midwest
Hiking shoes
Flip flops, water shoes, or the equivalent
Sunscreen / hats, sunglasses
Swimwear
If you play an instrument, you are invited to bring it for our campfire singalongs! :)
Toiletries
Bug Spray
Flashlight or Headlamp
Reusable water bottle/canteen
Any personal items that you use for your own mindfulness practices
This trip is primarily for adults, so you must be at least 18 years old. Contact us with any questions
If you have to cancel, send us a note at least 30 days before the event and we will hopefully be able to accommodate.
All of our trips enact a 'Presence Policy,' in which you commit to limiting phone use and other technology that pull you away from your awareness of the retreat. This is an important part of our process to achieve as significant of a transformational experience as possible.