100 Days of Breathwork: Recap of Days 19-24
Last week's recap talked about how several indigenous societies used nasal breathing as medicine. We learned how this plays a key role in their life, health, and culture as a whole. This week, we go on a deep dive on Pranayama and its many techniques as well as meet another influential person in the modern breathwork movement.
Day 19: History of Breathwork
Pranayama examples from ancient yoga practice
As we discussed in Day 1, breathwork has its roots in pranayama. Thousands of years ago, yogis in India did pranayama as a deeply spiritual practice of controlled breathing.
In Sanskrit, the word pranayama consists of prana- which means "vital life force" and -yama, which means "to gain control." This is the oldest form of breathwork, even mentioned in the Rig Veda, one of the ancient Hindu Vedas, written as early as 1500 BC.
Here are examples of pranayama techniques, some of which were included in the Vedas:
Day 20: Situational Breathwork
Breathwork before a workout
As a reminder, we use a "four corners of breath" notation to explain our breathwork as seen below. (image to be added after the draft)
Each side of the box indicates a ~1-second count. For example, a 4-4-4-4 pattern would look like: (image to be added after the draft)
For a full explanation of the breathwork notation, check out 100 Days of Breathwork Week 1 Recap.
This week, we are going to focus on a way to activate our bodies before a workout. Our exercise will get our blood flowing, alkalize our blood, and warm up our intercostal and diaphragm muscles for the workout ahead.
Top Triangle
This technique is called the Top Triangle because the breathing count only includes an inhale, full-lung hold, and exhale – so there's no hold at the "bottom" which would make a full box. The count for Top Triangle is 4-4-4-0.
Note if you are pregnant or nursing, activation breathwork techniques are not recommended.
So, here's how to do it:
Breath in for a 4-count through your nose.
Hold this for a 4-count
Exhale through your mouth or nose for a 4-count.
Go right into your next inhale
Note you can start with this 4-4-4-0 version, and after a few rounds, increase the pace to 3-3-3-0, or even to 2-2-2-0 eventually.
Day 21: Science of Breathwork
How Breathwork influences the Parasympathetic Nervous System
The Parasympathetic Nervous System is commonly known as our "rest and digest" response and is typically associated with a state in which we relax and socialize. Much like the sympathetic, our Autonomic Nervous System will initiate physiological changes in our body based on the environmental cues it is receiving. However, there is another way that we can consciously influence our nervous system. And that is through breathwork.
Let's take a look at those physiological changes that take place in parasympathetic and how we can influence them using breathwork.
Parasympathetic Nervous System: Rest and Digest
Constricts pupils
Constricts blood vessels
Stimulates saliva
Stimulates activity of the stomach
Inhibits secretion of sweat
Inhibits glucose release • Slows heartbeat
Stimulates urination, relaxes the rectum
As I mentioned, it's often environmental cues that cause our ANS to activate the Parasympathetic Nervous System. However, there's one other known way that can do this; one that goes against the traditional belief around – and namesake of – the "Autonomic" NS And that's breathwork.
If you didn't catch my post on this last week, here's a revisit of how conscious breathing can override environmental signals sent to our Autonomic Nervous System:
Breathing influences brain activity because our brainstem breathing centers are dose to the brain centers that regulate mood/emotions. Change the breath, change our mood.
Secondly, the vagus nerve relays information to the ANS and, much like our mood, it can be influenced by our breathing pattern. Let's take a cold water plunge for example: almost immediately, our brain and vagus nerve picks up on this and says "Wow, it just got cold." In turn, our ANS kick starts a fight/flight response. We can counteract this stress response by modulating our breath. By slowing down our exhale, we're able to push back on our vagus nerve and induce a calm response. All by focusing the breath.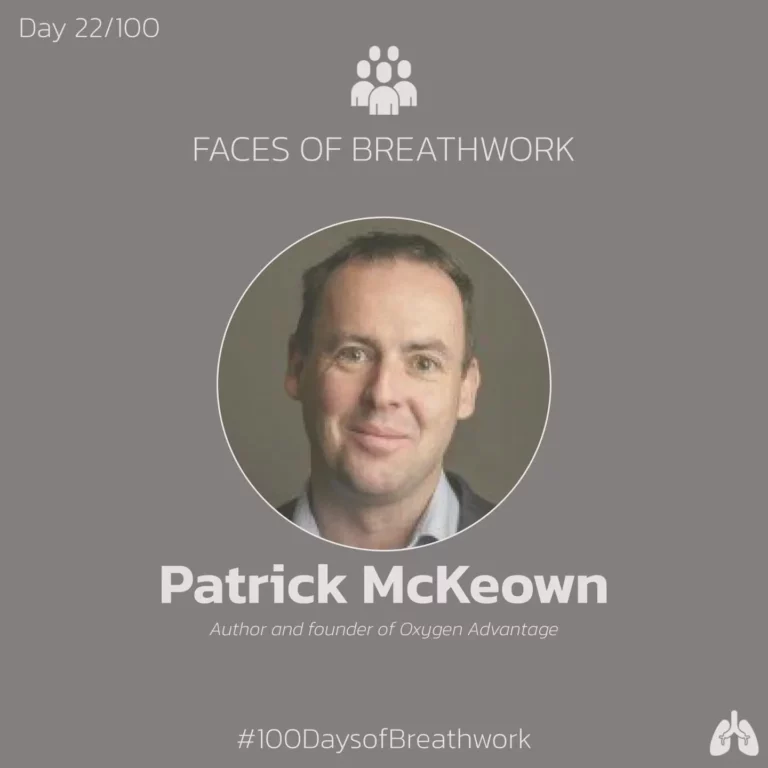 Day 22: Faces of Breathwork
Patrick McKeown
Patrick McKeown is a world-renowned author and breathing practitioner who completed his clinical training in the Buteyko Breathing Method at the Buteyko Clinic, which was accredited by Konstantin Buteyko (Face of Breathwork from Day 16).
Like so many others, McKeown found relief from asthma when he discovered the Buteyko Method at the age of 26. Over the next 20 years of his life, he remained symptom-free by applying the principles of the method. Patrick has since become a 7x best-selling author and expert on the topic of optimal breathing for improved health, well-being, and fitness, in particular with his book, The Oxygen Advantage. This book has also inspired a breathwork coaching certification that has received international notoriety and acclaim.
Patrick has trained thousands of people to safely challenge their bodies and produce positive changes through breathing re-education. He teaches a new way to breathe, combined with specific exercises designed to improve blood chemistry. The result is an increase in oxygen flow to all the body's systems, meaning greater endurance, strength, and power. And through the Oxygen Advantage certification, coaches around the world are teaching people how to:
Delay Lactic Acid and Fatigue
Improve Aerobic Capacity
Increase Lung Capacity
Reduce Risk of Injury
Improve Psychological Preparedness
This is particularly relevant for me, as I am in training to become an Instructor of the Oxygen Advantage
Day 23: Breathwork Session
We're now two weeks deep in our Monday Morning Breathwork sessions on LinkedIn / YouTube Live.
Consider me a seasoned pro at this point at the whole live stream thing.
In case you missed it: you can watch the recorded session live on Linkedin or YouTube.
And if you want to join next week: same time, same place. 7:15 am ET / 6:15 am CT on LinkedIn Live and YouTube. This is a great way to kick off the week with a breathwork session to calm stress, reduce anxiety, and increase focus.
What are some books I can read on Breathwork?
Well, it depends on what you're looking for 🙂 i.e. you may want something on the mindfulness side of breathwork; or something on the functional end; or something about athletic performance and training.
Here's my take on the Top 5 Books to help you dive into the world of breathwork:
Breath: The New Science of a Lost Art

by

James Nestor: Health and well-being overview, including benefits of proper (nasal) breathing, with some history included
A Practical Guide to Breathwork, A Remedy for the Modern Human Condition by Jesse Coomer: Intro to breathwork, the science behind it, and tactical tools to get started in your own practice
The Oxygen Advantage by Patrick McKeown: For athletic performance improvement and a health/wellness approach to breathwork
The Wim Hof Method by Wim Hof: An overview and history of the man and method that is taking the world by storm (and the Face Behind Breathwork from Day 10)
Just Breathe by Dan Brulé: For all the life implications, like increasing productivity, reducing stress, and re-focusing on your health
The benefits of breathwork go beyond calming your nerves. There is a real and tangible effect on one's body. These effects have been acknowledged not just by ancient practitioners but also by modern experts with the help of science.