Wilderness Canoe Camping in the Boundary Waters
Canoe camping in the wilderness is growing in popularity, and the Boundary Waters Canoe Area in northern Minnesota is one of the most famous places in the United States to do it. With its rise in popularity, adventurers are seeking places with untouched wilderness to enjoy this form of respite from daily life.
The Boundary Waters are famous for their spectacular scenery. Located in Minnesota, the area is more than a million acres of forest, lakes, rivers and untouched wilderness. The BWCA has over a thousand quiet lakes, almost none of them allow motorized boats, where the only thing you can see for miles are trees, birds, fish, the sun sparkles on the water, and blue skies during the day and dark, starry skies at night.
Recal founder Anthony Lorubbio recently joined Traveling Jackie, Jackie Nourse, on the JUMP podcast recently, where they talked about their canoe camping adventure in the Boundary Waters, as part of the Quiet Park Trip Series. Together with Matt Mikkelsen, the executive director of wilderness parks at Quiet Parks International, the trio discussed their biggest takeaways and memorable moments from the trip. We highlight these below.
Jackie: "The Boundary Waters is such a unique, beautiful place. Imagine right now you being on a quiet lake, in a canoe, with friends, and the only things you see, for miles and miles, as you paddle and portage between lakes, are trees, birds, fish, the sun sparkles on the water, blue skies and happy thoughts."
The group got lucky with great weather when they traveled to the Boundary Waters. As there are no formally constructed structures for miles on end, as well as no motors, the only thing they saw was nature, as well as other people canoeing or camping. Jackie set a goal for herself to get there, as part of her yearly retreat plan.
This is how Jackie found Recal, the perfect opportunity for her to be part of a trip, not the leader or organizer of one. Anthony and Matt are working together on the same goal, exploring the quiet places of the world, the last remaining peaceful retreats of the globe.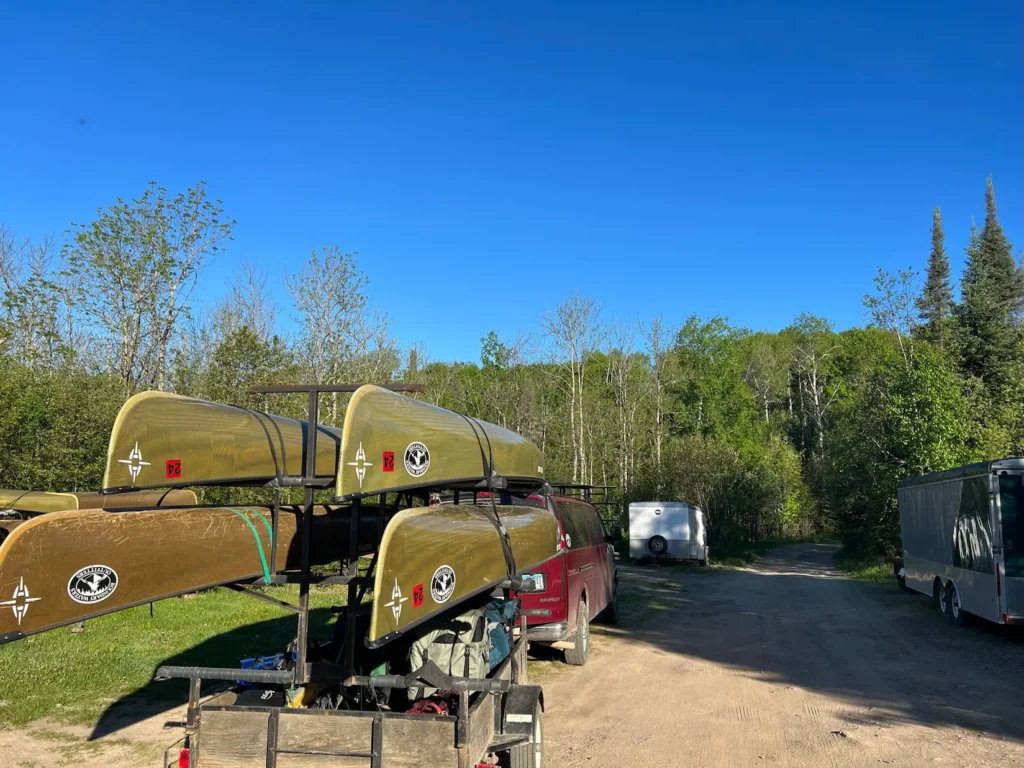 Anthony: "I believe that if we, as humans can get out of our modern environments, and go into nature as our bodies and mind kind of have known it for thousands of years prior to the lives that we now live, that would set the stage for the appropriate level of recalibration we can achieve. It's home, to our body and mind. Matt and Quiet find the quiet places of the world, the least amount of human-made noise in them, which are great for recalibration of body and mind."
Alongside Matt and Quiet Parks, Recal has created the Quiet Parks Series. Anthony then talked about the behind-the-scenes of such a unique canoe camping expedition. The Boundary Waters are a wilderness area that's part of the very few remaining quiet places on the planet.
Matt: "The Waters are really hard to get to. And it is canoe-only, this is not just a backpacking trip. You have to canoe and camp, which involves portages and permits. It's a special place, Minnesota is the 10,000-lake state, which is an underestimate, as the Waters come with hundreds of lakes themselves. All of the lakes are off-limits to motorized craft, which makes it really quiet, really special. You get really far out, really quick."
Portage means you take all of the baggage out of the canoe, put it on your back, and then put the canoe on your shoulders and hike between the lakes. While this sounds like a good deal of suffering, being in the middle of nature and doing it is another story. Canoe camping involves getting muddy, yet what you get out of it is impossible to achieve anywhere else.
Anthony: "It's one thing to go to a place that's been named quiet and has all natural sounds, but if we show up and our mind is ruminating about the things we regret from the past, or something coming up in the future, the mind is not quiet at all. That's where the mindfulness practice comes in and why it's a part of all of our Recal trips. To be able to be where your feet are. Just this moment, right now."
By the end of the trip, the trio got to experience quiet to such an extent that even the chirp of a bird would make them peaceful and fully immersed in the present moment. A mindfulness retreat on a canoe, as Matt would put it.
Jackie: "My intention was to just lean in. I had no idea what would happen, or what to expect. What am I going to give on this trip, what I will receive from the people around me, and just give in on the story? And I felt like a guest on a group trip, which are amazing. I've never done breathwork, or meditation, to me it was really cool."
The trip was fun and active, as well as reflective, a chance to introspect while carrying or being carried by canoe.
Anthony: "We did some journaling, as part of all Recal trips, for some introspection. The journal looks unique and I wanted it to be special. I got into a journaling process through my first Recal trips and from then on, journaling was an important part of my life and my trips. We focused on what we hear, taste, and smell, as that is a big part of being out in nature and journaling about it."
The group also did a silent dinner. There is no talking involved, as the participants are encouraged to go ahead and reach within, finding what is it like for them to just be there, see the food, taste, and smell, and not scroll through a feed while eating.
Through the trip, the trio experienced deep quietness, as well as a healthy dose of sensory perception stimulation. Hearing no man-made sounds for days, as well as enjoying the beauties and sounds of nature, introduced them to a level of peace few people get to experience on any other travels.
Recal's mission is to take busy people with noisy minds on trips that bring quiet and peace to them through active relaxation and mindfulness practices. Surrendering to the quiet of the Boundary Waters is an adventurous way to get to a quiet mind, which feels like home for our bodies and minds. Staying active is a key element towards a relaxed body. The two combine for an unforgettable trip and a new outlook on life and peace.
Listen to the entire podcast about the experience Anthony, Matt and Jackie had in one of the quietest places on the planet by clicking here.