Activities to do when traveling
Whenever we plan a vacation or travel, we typically choose our destination based on the things we can do while there. If visiting a touristy area such as Branson, it's almost a guarantee we'll attend a show of some kind. When visiting lower-key areas, such as Glacier National Park, we fill our time with outdoor activities to help us reconnect with nature. Most people, when planning their next adventure, spend hours trying to figure out how to fill their time. So, what are the top activities to do when traveling?
The top activities to do when traveling are hiking, camping, canoeing, forest bathing, and biking. We hope that we can help shift the focus away from "filling your time" and more towards mindful adventure travel. So, let's look at each of those activities individually and how they can help create a transformational experience.
Hiking while traveling generally falls into one of two categories: guided hiking and solo adventures. Both serve their own purpose, and there are a couple of things to keep in mind about each.
First, guided hiking is essential if you don't know where you're going or are visiting a remote destination. Following the lead of someone who knows the terrain will ensure you don't get lost or venture off-trail. It also has the benefit of encouraging mindfulness activities, such as quiet hikes. When the purpose of your trip is to help you recalibrate, this can be particularly helpful.
Hiking by yourself can be just as relaxing and helpful, just be mindful of your surroundings. It's important to have the right kind of backpacking gear with you so that you have everything you need during your expedition. And of course, conscious eating is essential for any nature-based physical activity. Another consideration is a guided backpacking adventure, with a guide who can help you prepare for all of these steps.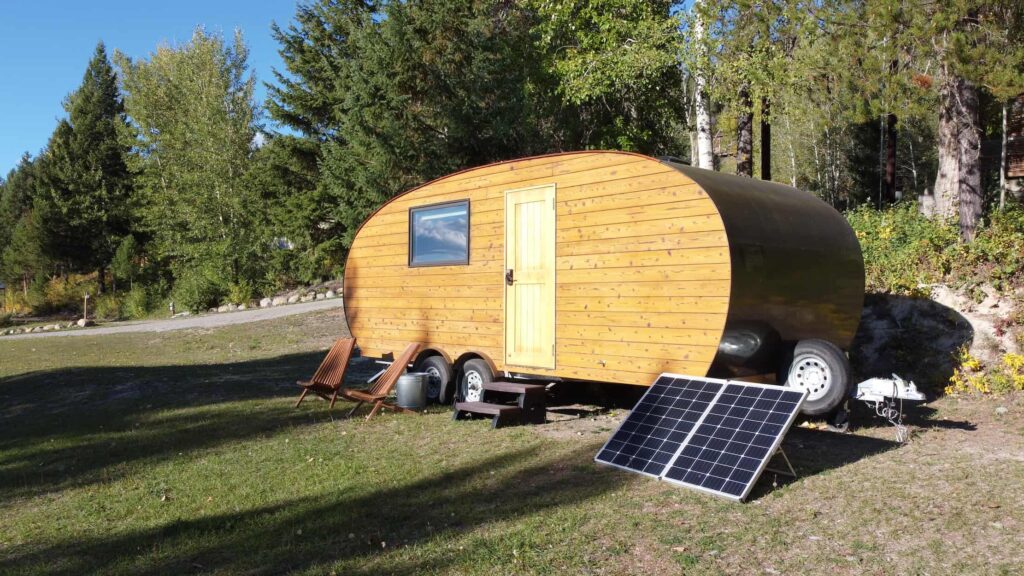 Camping is another great activity to do when traveling. It, too, comes in several forms. Glamping is a term that essentially means you're bypassing the rustic experience for a more comfortable one. Whether that involves renting a cabin, camping in an RV, or boondocking as a van lifer, glamping lets you explore the outdoors while sleeping in a more traditional bed and having access to standard living amenities.
Tent camping is another option, a slight step away from glamping yet not quite a sleeping-under-the-stars experience. It offers protection from the elements while helping reconnect you with nature. And of course, the next step beyond that is backpacking: quite literally, sleeping under Dark Skies. For a true nature immersive experience, you can't get any closer than that.
If you're interested in camping and would like expert help throughout your experience, we highly recommend considering a guided camping trip. Like guided hiking, a guided camping trip offers participants the opportunity to experience the outdoors with the assistance of a trained professional. A guided camping trip can include teaching moments to learn basic camping skills, mindfulness exercises, and opportunities to stargaze with gorgeous, unobstructed views that are breathtaking.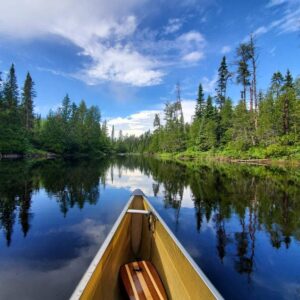 A lesser-known, but just as fun, activity to do when traveling is canoeing. Contrary to what you may initially think, canoeing doesn't require significant boating experience. It's much easier with a guided canoeing trip, but with a few simple tips, most people will get the hang of it pretty quickly.
Part of that is the slower-paced nature of canoeing. If you're envisioning a white water rapids type of activity, this isn't it. Instead, the canoeing we're talking about is focused on peace, quiet, and nature immersion.
A great place to experience this is in the Boundary Waters Canoe Area. Canoeing in the Boundary Waters Wilderness is an excellent way to practice breathwork, immerse yourself in stargazing, and embrace mindfulness. For anglers, Boundary Waters is also an excellent place to fish non-competitively. Again, this experience is meant to embrace a slower, more thoughtful approach to outdoor activities.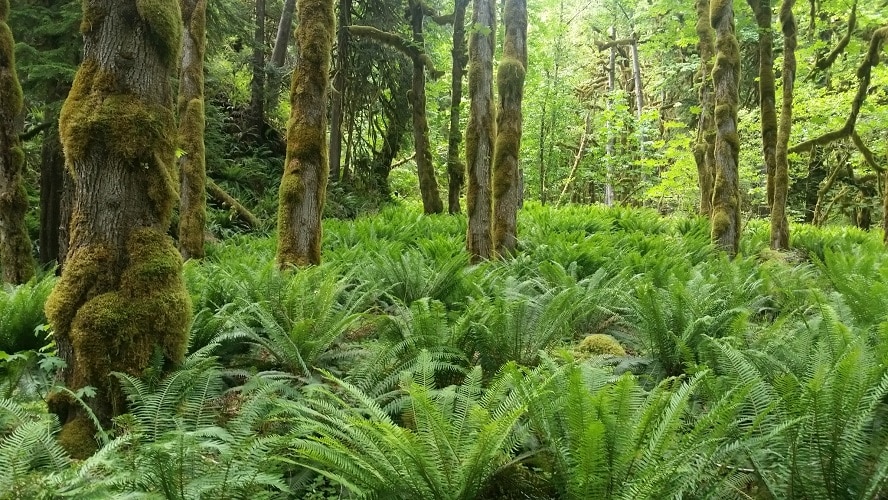 Taking the slower-paced approach a bit further, no list of activities to do when traveling is complete without forest bathing. 
Forest bathing is an excellent way, especially when performed in a quiet park, to practice your meditation techniques. Quiet parks, such as Boundary Waters, help us better clear our minds especially with guided forest bathing. They can help you clear your mind and tune out the noise of routine. Then, with only nature as your soundscape, guided forest bathing helps us to slow down and embrace our original natural environment.
Today, we're used to the fast-paced, big city, capitalist-driven world. We've lost our connection to nature — where humanity initially lived. Forest bathing brings us a step closer back to where we lived centuries ago.
Forest therapy is a rising trend among healthcare institutions, so when planning your next travel adventure, be sure to incorporate an opportunity to stop, pause, and reflect. Close your eyes, listen to what's around you, and as you clear your mind you'll start to notice something different about how you feel. It's that connection to nature that you're rebuilding through this mindful practice.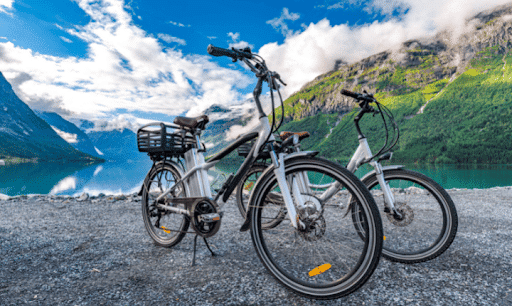 The final activity to incorporate on your next trip is biking. There are various types of cycling activities. Road cycling is more fast-paced, typically using a bike with a rigid fork, drop handlebars, thin tires, and a raised seat position. Mountain biking uses bikes with various forms of suspension, flat handlebars, and wider tires. In the middle of those is gravel cycling, a hybrid form of bike touring similar in design to road cycling but with mountain bike characteristics.
Regardless of your preferred type of biking, it's a great activity to add to your travel plans. E-biking is becoming more popular, as it adds an electric motor to a standard road or mountain bike. Throughout the west, there are various ways to add a mountain bike tour to your plans, often as a part of a guided biking experience. And if you don't have a bike, you can often rent one at a fraction of the cost of buying your own. 
Other activities to do when traveling
This isn't to say that the previous five ideas are the only top activities to do when traveling. There are many more, often location-specific, things you can try. Those include:
Breathwork, with a dedicated focus on the Wim Hoff Method;
Meditation, aimed to help you clear your mind and refocus your attention;
Trying new local foods, especially locally owned establishments that support communities and their economies;
Decompressing, such as getting a massage or soaking in a tub, and;
Reading, such as in the hotel room or the outdoors.
The best time to visit Hoh Rainforest in Olympic National Park
As with any warm environment activity, the best time to visit Hoh Rainforest is during the summer season. May through September will give you the closest experience to a traditional rainforest — warm, humid, lush, and green. It's worth noting too that most of the rainfall in Hoh falls between November and April, so if you want to stay 'drier,' we advise you to go in May or later.
However, this isn't to say that visiting the Hoh Rainforest during the off-season is any less of an enjoyable experience. For example, if watching wildlife helps you decompress, Hoh Rainforest is the place to be. It has the nation's largest herd of Roosevelt elk within its borders. As an unmanaged herd, they live in Hoh all year long and are particularly active in the early fall. Plus, visiting while it is rainy can also be an incredible experience; you'll be witnessing the area in its truest form.
In the end, it comes down to the type of experience you're looking for; if you're looking for a unique experience and don't want to fly outside the U.S., be sure to visit Hoh Rainforest in Olympic National Park. Our Signature Series trip will be hosted here in June, and we'd love to have you join us. Click here to learn more.
Travel should help mitigate burnout
If you noticed a common theme among our top activities to do when traveling, they all are designed to help you recalibrate. Too often recreational travel is an extension of the daily hustle. We schedule so much into our vacation time that we need a vacation to recover from it.
That's not helpful, especially as our time off should be restorative in nature. Stress reduction should always be at the core of any trip to help you mitigate anxiety and overcome burnout. That is why each of our three trip series — Quiet Parks, Dark Sky, and Signature — takes a mindfulness approach to your mental health. Our guided adventures are designed to combat the effects of burnout. Learn more about all of our trips and when they'll be taking place here.