The Top 5 Places In The U.S. To See The Stars - Explore A Dark Sky Park Near You
All around us, every day, is light pollution. In addition, this has a direct impact on our mental well-being. Think about it: humans 'grew up' over thousands of years under clear, dark skies; and now it's a rarity that we experience them.
We founded Recal to help overcome both burnout and frustration through various mindfulness activities. Among those is stargazing. If you've ever had a chance to get away from the city on a clear night, you've no doubt been amazed by the sheer volume of stars visible to the naked eye. It's an unbelievable thing to see and exemplified even more when visiting a dark sky park in the U.S.
Light pollution ruins the stargazing experience, which is why we have certified dark sky parks throughout the United States, which is where we'll focus this article.
What makes a dark sky park in the U.S. different from other parks?
State and National parks are both great places to reconnect with nature. Overall, they help to calm our minds while disconnecting us from the outside world. You can more easily stargaze from these locales than your backyard due to nearby light pollution.
The International Dark Sky Association is the governing body responsible for determining whether a location can be a certified dark sky park. From their website, they define a dark sky park as:
"…land possessing an exceptional or distinguished quality of starry nights and a nocturnal environment that is specifically protected for its scientific, natural, educational, cultural heritage, and/or public enjoyment."
In the U.S., most people commonly associate dark sky certified parks with the western part of the country. Those states are more sparsely populated, less industrialized, and as such, it would make sense for them to have a higher percentage of dark sky areas.
This isn't necessarily a true assumption. When browsing the IDSA list, you can easily spot several options in each time zone and geographic region. After spending some time reviewing them, we came up with a list that, no matter where you live in the continental United States, puts you within a few hours of a nearby dark sky park.
On this "tour" today of our top 5 designated dark sky parks, we'll start in California. After that, we'll make our way through the Northern Rockies. Next, we'll travel to the tip of Michigan then east into Pennsylvania. Finally, we'll conclude in Florida before wrapping up.
Have a safe, mindful trip with us. We hope you enjoy the tour 🙂
Anza-Borrego Desert Park (California)
As promised, we kick off our tour in Southern California. The IDSA designated Anza-Borrego Desert State Park as a certified dark sky park in 2018, and the only one in California. Since then, it's become a 'low-key'  destination for stargazing enthusiasts and those looking for a mindful experience, albeit remote enough so that it is far from overrun with tourists.
The Anza-Borrego night sky is perfect throughout its 650,000 acres and is virtually free of light pollution. This means that Anza-Borrego stargazing spots are, quite literally, peppered throughout the region. It's one of our favorite dark sky parks in the U.S., especially if you're looking for a colorful view of the Milky Way.
Grand Canyon National Park (Arizona)
Sticking around in the Southwest part of the U.S., another favorite dark sky location, the Grand Canyon, is a sight to behold on its own. At night, it becomes an entirely new experience. Some favorite stargazing spots include the bottom of the canyon itself near the Colorado River, as well as Desert View and Lipan Point – both of which are off the beaten tourist path.
Boundary Waters Canoe Area Wilderness (Minnesota)
We now head north and west to the northernmost tip of Minnesota on Lake Superior. Currently holding the title of a Dark Sky Sanctuary, Boundary Waters is one of the most scenic places to visit in the country. As the northernmost dark sky park on our list, it's also an excellent place to view the Northern Lights without needing to make the trip into Canada or across the pond to a Nordic country. Perfect for nature immersion, guided mindfulness, naturally quiet soundscapes, dark skies, and serene views, this is a park not to be missed.
Cherry Springs State Park (Pennsylvania)
Just five hours from the heart of New York City sits Cherry Springs State Park. Stargazing is a priority here as it has a dedicated astronomy field with utterly amazing naked eye views of the Milky Way. Anyone living on the east coast should make visiting here a 2022 priority.
Kissimmee Prairie Preserve (Florida)
The final stop on our dark sky certified parks tour is Kissimmee Prairie Preserve. Roughly 100 miles south of Orlando, visitors can book one of nine nearby astronomy pads all to themselves. As this is one of the few unobstructed places to view the stars in Florida, it's a popular location but worth the drive nonetheless.
Camping near dark sky parks
Camping under the stars is one thing. Camping near dark sky parks is something else entirely. As most of these locations are far removed from society, they are a great place to unplug, relax, and rejuvenate your mind. Camping in or near a dark sky park is pretty common, with most setting aside designated camping areas. Of the five parks on our list, four offer on-site camping.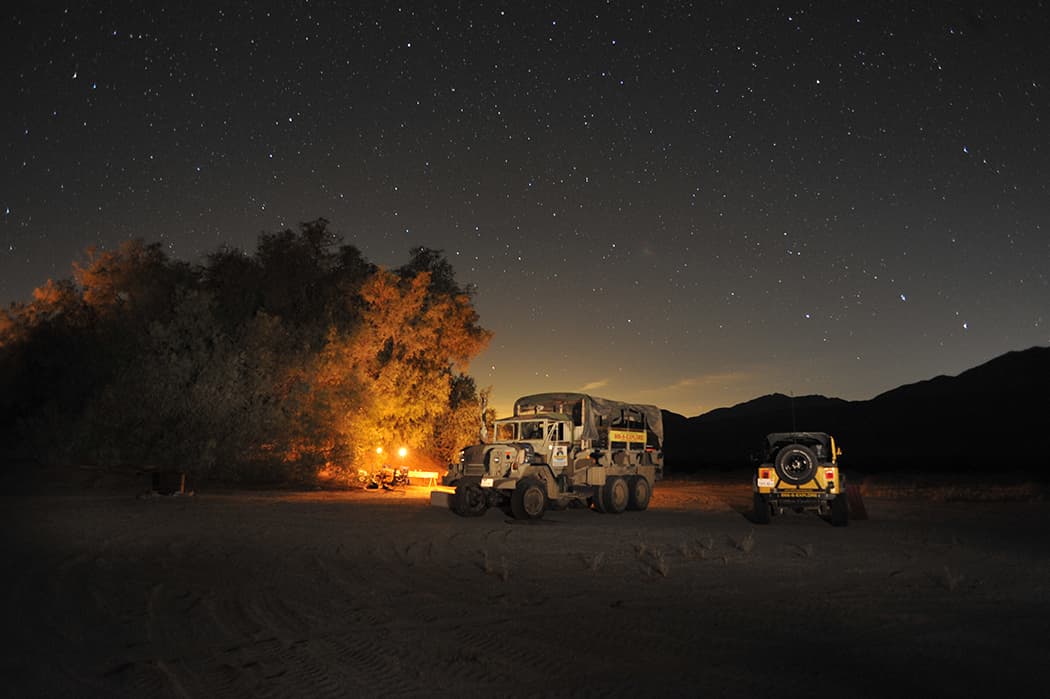 Anza-Borrego: Campsites are available and can be booked up to six months in advance. RV, primitive tent camping, and truck/SUV for van lifers are all available at Anza-Borrego.
Grand Canyon National Park: The Park has 4 developed campgrounds while also allowing backpacking. In addition, a few of the campgrounds are seasonal so be sure to plan ahead.
Cherry Springs: Cherry Springs has 30 primitive campsites and is open from April until October each year.
Headlands: Headlands does not allow camping, though the park is open all night long. Nearby accommodations are your best bet for overnight stays.
Kissimmee Preserve: Primitive camping starts at just $5 per night with RV spots running $23 each.
List of other dark sky parks in the U.S.
Utah takes the top spot with the highest number of dark sky parks in the U.S. Dead Horse Point State Park, Steinaker State Park, Arches Canyon National Park, and Canyonlands National Park all call the Beehive State their home.
Craters of the Moon National Monument is another great dark sky park within the Rocky Mountains region in Idaho.
We also don't want to overlook Cosmic Campground in New Mexico, Big Bend National Park in Texas, and Glacier National Park in Montana.
In fact, any one of these eight dark sky parks in the U.S. could have made our list. However, today we wanted to highlight that virtually every major region in the country has at least one dark sky park.
List of other dark sky parks in the U.S.
At the heart of our mission is mindful adventure travel. For the uninitiated, we're not referring to high-energy, ego-driven outings. Rather, our focus is to slow down, unplug, and reconnect with nature.
As a part of that, we've planned a dark sky trip to the Anza-Borrego Desert. As the cornerstone of our Dark Sky Series, we'll focus on breathwork, camping, hiking, meditation, and silent hiking while visiting Anza-Borrego stargazing spots. Our journey starts on May 27: join us on an adventure that'll help you overcome both burnout and exhaustion in a unique experience.