What is a Quiet Park, exactly?
In a nutshell, Quiet Parks are locations that are "naturally quiet," which means free from human-made noise. These quiet places are sometimes protected natural parks that see little to no human-driven developments that cause noise pollution, but many are still unprotected and require awareness and action to help preserve them. A large part of the movement to build awareness was brought on by acoustic ecologist Gordon Hempton in his One Square Inch of Silence initiative in 2005.
Hempton reorganized the project to establish Quiet Parks International, an international non-profit organization dedicated to the recognition and protection of naturally quiet spaces. The organization also sponsors several research and education projects dedicated to quiet parks and other locales.
Why is quiet so important?
There are several reasons as to how noise pollution affects us and our environment.
Just like how important naturally dark skies at night are to wildlife, naturally quiet places are also a vital part of our ecological landscape. Many species rely on sound to survive and thrive in the wild. For example, many types of birds' ability to communicate, hunt, and travel is significantly impacted by the low-frequency humming of machines and human transportation. Bats use sound to find their way around, and most prey animals use sound to detect predators. Noise pollution disrupts these processes and contributes directly to their recent decline in population.
Repeated and prolonged exposure to noise pollution has severe effects on hearing. In a study done by the University of California San Francisco, researchers estimated that over 17% of teens ages 12-19 show signs of hearing loss. What once was thought to be a concern for the elderly is starting to become a bigger problem for younger people as well.
Too much noise is a distraction that affects focus and creativity. Completing complicated tasks also requires a lot of brainpower. Reducing ambient noise and removing distracting sounds can help you be more creative and focused. A quiet environment lets you focus on the task at hand.
Every day we are bombarded by information by way of sound disruptions. Think about it: each time we hear something, our attention is pulled in that direction. Our cognitive brain makes an attempt to identify what the cause of the sound is. Most importantly, however, in that moment of identifying the sound, our stress response (fight, flight, or freeze) is highly engaged as we identify if the sound is a threat. This consistent assault on our senses can be overwhelming, especially in the long run. It can lead to increased levels of chronic stress, anxiety, and eventually burnout, which can then lead to other serious mental and physical health complications. 
Spending time in quiet places (and Quiet Parks) helps calm the mind and reduce the unhealthy effects of these noise intrusions.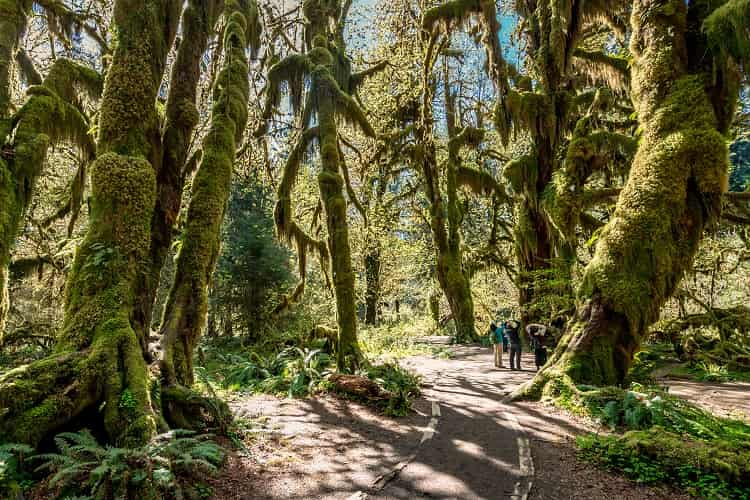 Olympic National Park - Hoh Rainforest
Olympic National Park in the State of Washington is one of the largest national parks in the US. This wide area of protected land surrounds four distinct regions: a temperate rainforest, a coastline, an alpine region, and a dry forest. Because of its pristine beauty and untamed terrain, it is a popular site for adventurers and outdoor enthusiasts.
In fact, in 2005 this was the subject of Gordon Hempton's One Square Inch of Silence project. He dubbed it as the "quietest place in the US". It became one of the first fully recognized quiet places in the country and was the spark that created Quiet Parks International. However, since 2005, the Hoh Rainforest has been faced with many challenges to maintain its quiet nature, which exemplifies just how hard it is to preserve quiet. 
While it has faced these challenges it is still one of the most beautiful places in the U.S. – and to truly understand the magic is to visit it in person. Recal has opened guided trips to the Hoh Rainforest as part of our Signature Series of trips, which is aimed to build awareness of the importance to preserve this unique gem. Here you get to have a firsthand experience of its beautiful, naturally quiet landscape combined with mindful camping. Visit the Hoh Rainforest Trip page for more info.
By Recal Travel, in partnership with Quiet Parks International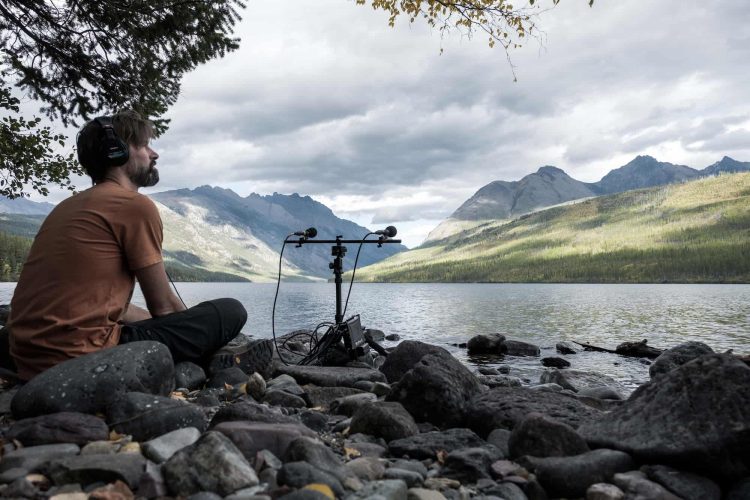 Recal and Quiet Parks International are proud to also present the Quiet Park Trip Series as a mindful way of experiencing quiet places. This includes retreat-style trips to Glacier National Park in Montana and the Boundary Waters Canoe Area Wilderness in Minnesota.
Glacier National Park is a prime destination for people who love the outdoors. It's got scenic trails, amazing views, and plenty of quiet spots to enjoy nature. Our Glacier National Park trip is a six-day excursion that is a blend of mindfulness practice and outdoor adventure. Throughout the trip, a mindfulness coach is there to guide you every step of the way.
The Boundary Waters Canoe Area Wilderness is another great destination for Recal's 2022 Quiet Parks Trip Series. The BWCA is a great place to get away from the noisy environment of the cities. There are two (2) itineraries to choose from: a shorter 4-day and a longer 6-day excursion. As with our other trips in the series, a Recal mindfulness coach will be with you on the trip.
Our Quiet Parks series aims to help in the preservation of quiet. This is why Recal partnered with Quiet Parks International to help in this goal. As QPI's Founder, Gordon Hempton, said "Quiet travel is a truly sustainable form of economic development whereby we do not change the places we visit, we change ourselves." Furthermore, Hempton explains the importance of quiet on the ecological health of living beings. "If we were to study quiet destinations we find they are also  the healthiest places left on the planet—carbon capturing, oxygen-producing, characterized by diverse wildlife function in a stable ecosystem—so, saving quiet also save so much more."