The U.S. has a Rainforest? Welcome to the Hoh Rainforest in Olympic National Park
Unless you have plans to travel to South America, the closest many of us assume we'll ever be to a rainforest is by visiting a local conservatory. For example, Foellinger-Freimann Botanical Conservatory in Fort Wayne, Indiana has a dedicated rainforest room. When they or other conservatories set up places like that, it's to give you a brief taste of life in those kinds of unique climates. It also, again, carries the assumption that few of us will travel to an actual rainforest in our lifetimes. However, contrary to popular belief you can visit several rainforests right here in the United States, including the Hoh Rainforest in Olympic National Park.
What is a rainforest exactly?
To be classified as a rainforest, a region needs to have a few specific characteristics. Those include:
Tree-dense topography;
More than 55 inches of rain per year;
High humidity;
A high concentration of indigenous fauna, and;
Unfruitful soil, as nutrients are sucked up by plant life relatively quickly.
What is the difference between a tropical and temperate rainforest?
When we hear the word "rainforest" we most commonly think of a tropical one. Most of these sit within 10 degrees both north and south of the Equator. They don't have a dry season, are extremely hot, humid, and incredibly wet. Scientists believe tropical rainforests have been around since the Gondwana era — the supercontinent that existed after Pangea. In other words, while they've changed over time, they've always been a vital part of our planet's ecosystem. They're huge, taking up almost 7.8 billion square kilometers of real estate.
A tropical rainforest will always fall within the equatorial region. They don't extend past the Tropic of Cancer or Capricorn. By comparison, a temperate rainforest is any rainforest outside of this region. They make up a smaller percentage of the Earth's surface, exist only in temperate climates such as the Pacific Northwest, and have a bit more of a forest-like feel compared to their tropical brethren.
How many rainforests does the United States have?
In addition to Hoh Rainforest in Olympic National Park, there are several recognized rainforests and a few honorable mentions throughout the United States.
Alaska is home to one of the world's largest, Tongass National Forest. El Yunque National Forest in Puerto Rico (included here given it is a U.S. territory) looks as if it came right out of the pages of a National Geographic editorial on rainforests. The Appalachian Temperate Rainforest falls a little short on annual rainfall totals compared to the others but still hits the minimum. Finally, Hamakua Coast in Hawaii is worth visiting if you're traveling to any of the Hawaiian Islands.
Plus, the U.S. also has two honorable mentions. First, Alaska is home to Chugach National Forest which has a rainforest-like environment. And, nestled near the California-Oregon border is Mount Hood Wilderness, a mossy yet impressive forest.
While we could spend our time talking about any one of these, today we wanted to highlight the Hoh Rainforest for several reasons. First, when scientists talk about temperate rainforests, they usually refer to the Pacific Northwest as an example. Second, the climate of the Hoh Rainforest feels otherworldly. As we alluded to earlier, conservatories want to showcase the unique nature of rainforests when they include them in their biome. 
That feeling of "this is different" is the same thing you get when walking through the Hoh Rainforest; it takes you out of the busy city life and drops you into another world.
Compared to the minimum rain requirement, the Hoh Rainforest blows the Appalachian Temperate Rainforest out of the proverbial water with 168 inches of rain per year.
Things to do in Olympic National Park
As we mentioned, Olympic National Park is home to Hoh Rainforest. This National Park has over 70 miles of pristine Pacific coastline for you to enjoy. If you're looking for something peaceful to try, take a mindful hike along the coast. Within the Hoh Rainforest itself there are 3 hiking trails with another 5 in the nearby regions. In addition, there are another 24 hiking trails throughout the park.
lthough not recognized as a certified dark sky park, stargazing in Olympic National Park is a popular activity among tourists. Because it's a northern climate park near the mountains, there are also plenty of winter activities including skiing, snowshoeing, and winter climbs.
Olympic National Park is great for both wildlife watching and nature photography. Camping and backpacking are both available (including our signature mindful backpacking trip). And, if water activities are your thing, there are plenty of opportunities for rafting, kayaking, fishing, and tide pooling to keep you busy.
Places to stay in Olympic National Park
As we mentioned, the park system allows you to either camp or backpack on the grounds. Reservations are required and most of the spots are open only during the summer season. Several lodges are nearby, though only Kalaloch Lodge is open all year long. The others — Lake Crescent Lodge, Log Cabin Resort, and Sol Duc Hot Springs Resort — operate seasonally.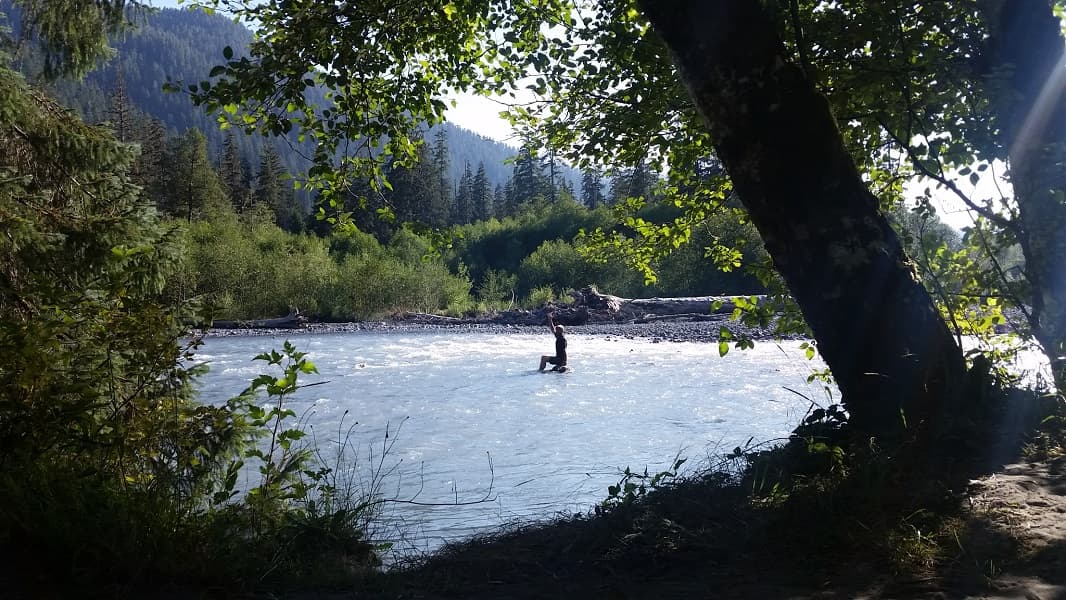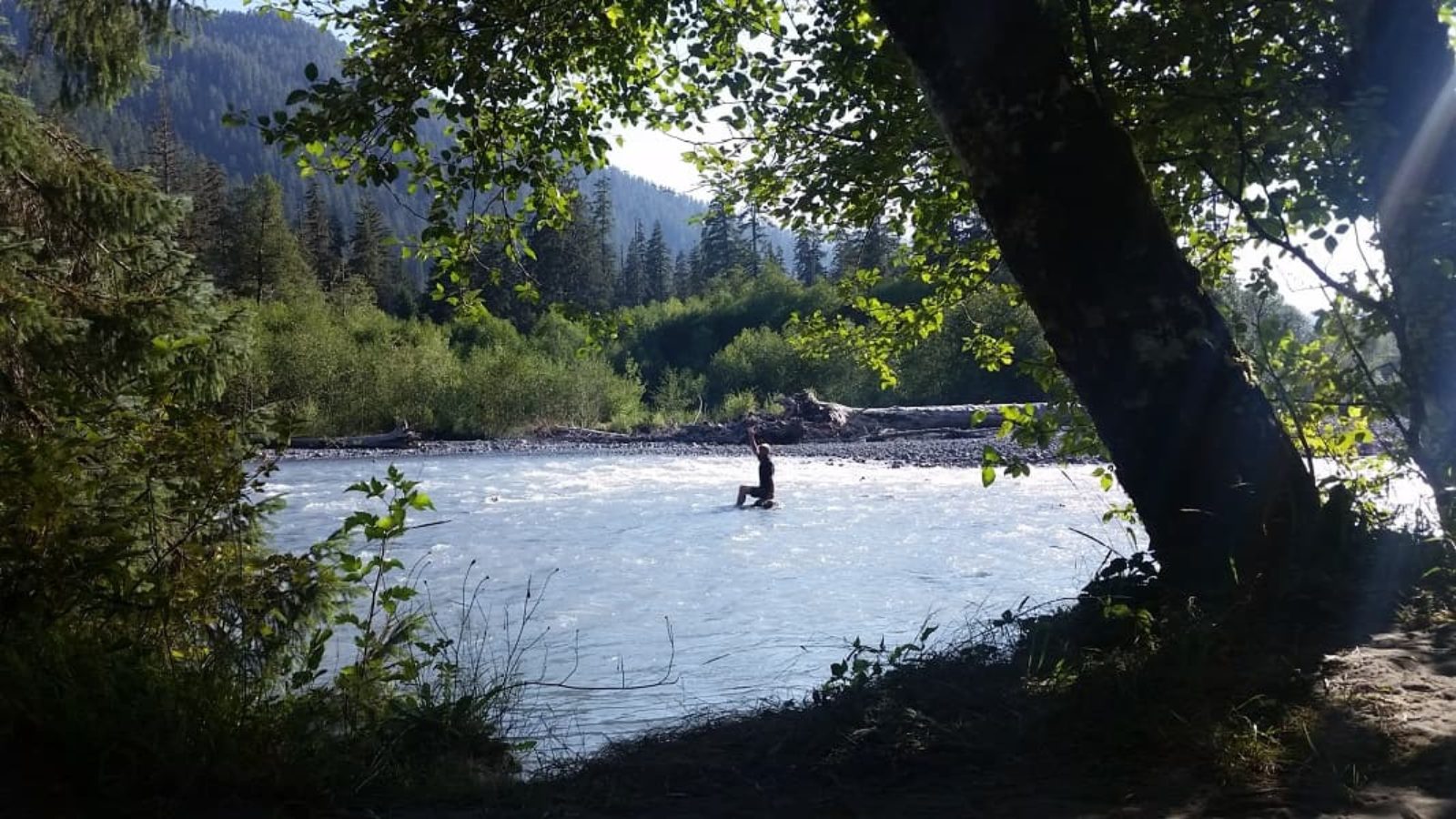 The best time to visit Hoh Rainforest in Olympic National Park
As with any warm environment activity, the best time to visit Hoh Rainforest is during the summer season. May through September will give you the closest experience to a traditional rainforest — warm, humid, lush, and green. It's worth noting too that most of the rainfall in Hoh falls between November and April, so if you want to stay 'drier,' we advise you to go in May or later.
However, this isn't to say that visiting the Hoh Rainforest during the off-season is any less of an enjoyable experience. For example, if watching wildlife helps you decompress, Hoh Rainforest is the place to be. It has the nation's largest herd of Roosevelt elk within its borders. As an unmanaged herd, they live in Hoh all year long and are particularly active in the early fall. Plus, visiting while it is rainy can also be an incredible experience; you'll be witnessing the area in its truest form.
In the end, it comes down to the type of experience you're looking for; if you're looking for a unique experience and don't want to fly outside the U.S., be sure to visit Hoh Rainforest in Olympic National Park. Our Signature Series trip will be hosted here in June, and we'd love to have you join us. Click here to learn more.